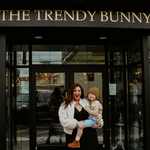 THE MAMA BEHIND TRENDY
Welcome to The Trendy Bunny! Thank you for shopping small and dreaming big! We are located in the beautiful downtown historic district in the city of Greensburg, Pennsylvania.

As a mother with five sons, I wanted to inspire them to dream big and follow their passions. I also dreamed of designing a space that not only housed both of my businesses but housed other small business as well - a place parents can bring their children to play, to learn, and where we would be able to give back to the community. So I built a traditional brick & mortar store along with a design studio.

At The Trendy Bunny Studio, you can shop three stores in one place, let your little one's imagination run wild in our play space, rest in our custom-built nursing nook, have a cup of coffee, and most importantly leave feeling inspired! Shop in-store or online!