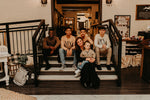 It's the day I have been waiting for, praying for, working towards for years! March 6th 2020 is my day! It's not a wedding or a due date but it is my business baby. After years of designing the vision in my head, it is now a physical place that everyone can see. But to understand the celebration, we have to talk about the journey.
Years ago, in my early 20's, I started a design company. I focused mostly on event planning and worked my way up to decor design. I loved taking a space that wasn't necessarily being utilized in someone's home and (with what felt like "magic") I wanted to transform each space for my client and make them feel like it was a photograph of their life but without a lens.  I did this as a side-hustle for years. I walked away from my passion with a growing family and a constant seed of doubt in my young mind.
That was over 15 years ago. I always missed designing on a surface level, pushing away the thought and focusing on my family. I would help friends and take on small projects and events every now and then. Eventually I got the extra push from a friend who refused to let me decorate her home for free. She hired me to decorate her family room for Christmas. I remember holding that check in my hand and thinking to myself "I could have made so much money the past 15 years." I know this doesn't sound like a very interesting moment but I started calculating all the trips I could have taken, or money I could have donated, or the shoes I could have had! Oh, the shoes would have been amazing! It was then that my brain started to go into full I NEED TO START A COMPANY NOW mode...
I came up with a business plan and in late 2015 I knew I was going to open up a design company. I wasn't sure exactly what the details were but I knew I was meant to pursue my dream somehow...
That's when it happened...
LIKE SOMETHING OUT OF A FAIRY TALE...
I got the test!
The test that would forever change my destiny, my life, my future, and catapult me to eventually creating The Trendy Bunny Studio. The pregnancy test read POSITIVE! I found out a few weeks after landing on the decision to go back to work that I was expecting my 4th son (I now have 5 sons).
Sawyer was my miracle baby. I had tried for years to no avail to carry another child to full term. My body was weak from a blood clotting disorder that has been the biggest challenge of my life. I almost lost my life to my disease. I never take a single minute for granted EVER because of it. So although my pregnancy was a very difficult one with MANY MANY MANY injections, doctors visits, and worry, Sawyer Jude was born in November of 2016. 
I would add to my family again two years later through adoption and now am the very proud, very tired mama to five incredible sons: Andrew, Mike, Marcus, Taylor, and Sawyer. They inspire me every single day. They encouraged me to follow my dreams and so I did. 
In mid-2019 I began construction in a very old, very disgusting building in downtown Greensburg Pennsylvania. I found myself there relying only on faith. A woman I didn't know and had never met had tracked me down when she found out I was looking for retail space. That woman had an eye for design. She showed me a basement and was not remotely shocked when I too saw what she could. 
I took a 4,000 sq foot basement, in an alley, that looked like something out of a horror movie, and created The Trendy Bunny Boutique and Design Studio. Through faith and God's grace I made it work. I found my team, curated a collection, and built this basement to be the most beautiful basement you have ever seen! I used only small local businesses to complete the ENTIRE project. From ceiling to floors, all local! I designed what looks like my life's photo with no lens and spent every single penny that I had ever made (and then some). I worked every single day for years to get here, every single day.
I will share details about my team in a separate post because they are AMAZING and need more than a paragraph.  Anyway... Here we are, March 6th, the day I have dreamed of, the day I have prayed for... IT WAS AMAZING! The community came out to support us despite knowing nothing of what to expect. With paint drying up to the very last second, we opened our doors to a line so far back I couldn't help but feel overwhelmed with pure joy. That moment was special, seeing so many children in line with their parents, so many locals coming out to share this space that was built to inspire them. So many children that could play, and draw, and laugh, and learn! A place that will applaud their sweet imaginations and make them each feel important!  A space where families can create new memories...
My moments of pure joy were seeing my sons watch their very boring mom prove that your passion can become your reality; the moment my #teamtrendy got to see all their dreams coming true; sharing this moment with so many, knowing that all I ever wanted was now a reality.
I stood beside my sons and my husband and, without saying a word, I could hear their dreams growing.
That is my success.  
Click here to enjoy all the beautiful photos of our grand opening.
Photography credit: LondynnKate Photography (@l.katephotography)