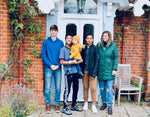 I recently took a trip to London with my husband and four sons. I wanted to share some of my trip with all of you!
After a very long flight, we arrived at our cottage - a dream cottage that overlooked Windsor castle, and a perfectly placed garden.  Two breathtaking horses named "All For Me" and "Nothing For Me" greeted us at the front field, as did the homeowner (Hamish) with fresh cheeses and treats from the locally sourced market.
I am instantly in awe of the beauty of England, and at peace for the first time in years. I drank my coffee quietly in the back garden overlooking the Queen's castle, watching Sawyer (my youngest son) feed the horses and my Marcus (my second son) kicking his soccer ball around the fields that seemed endless. Time stopped, my world that is almost always filled with one task followed by the next (with no rest in between) simply floated into the chilly English air. I was able to actually hear my own thoughts, and able to pray without interruption.  I was able to feel peaceful and prepared - prepared to find the answers I was looking for:
Should I invest in myself?
Could I invest in myself?
Would I believe in myself?
I have wanted to transition The Trendy Bunny for a long time.  I was hesitant to take a leap of faith mostly because of finances but many other reasons as well. First, I want to be present for my children. I worked outside of the home for years when my now-teens were littles. I wished for nothing more than to have those moments of snuggles and playtime back again. So deciding to take time to build up The Trendy Bunny is not a decision that could be made on a whim.
I also needed to see if the market had a place for my vision.  Well, I've learned over the past two years that it does have a place. 
Thirdly, investing more into The Trendy Bunny would mean that some fun goals that I had set would be tabled. I want to help my younger sister with my nephew's travel expenses to and from Boston Children's Hospital, since he has a rare heart condition that will require several major surgeries. I want to send my brother and his two sons on the vacation they deserve but can't afford. I also want to be able to travel with my husband and children and not have to cook! And I would love to remodel my old but functional kitchen.
But these goals would be forced to sit on the back "Goal Digger" burner if I take this leap. Could this business afford the additional overhead expense of a larger office space, large inventory expenses, packaging, wholesale contract minimums, the list goes on and on... ?  
Whether the handful of crazy negative reviewers believe it or not, I am a real-life mom of four sons and this is a small business. Tiny actually... The income from this business contributes directly to my family's financial obligations. 
The decision had been giving me headaches for months!
But as I was able to breathe in the cool air, I put my worries aside and let myself be still and allowed myself to imagine what it would look like if I were to build on my business. I gave myself permission to fail again. I have failed in business before (if only measured in income, that is). I have walked around with such guilt having invested my family's money into a business that did not pay off.
Except, in many ways other than income, it did pay off. I taught myself how to win wholesale contracts, how to put myself out of my comfort zone and into the public eye. I had events that not one customer attended.  I learned the fundamentals of online marketing, and built a foundation upon which The Trendy Bunny now exists.
My trip to London allowed me to forgive myself, to believe in myself again, and to decide that I would begin transitioning my tiny business!
So that's what I'm doing now: building, learning, and working during nap time and at soccer practice, late nights, through dinner, and yes it's taking me longer than expected. But as Julie Chen would say "Expect the Unexpected."
Why did I just quote Big Brother and not some amazing poet that would have been much more elegant? Well, because business isn't always elegant nor am I.
I am not that mom on Instagram with the perfect image holding a perfectly placed eucalyptus branch while my children all play in perfect mustard-colored organic pajamas. I am a mom who wishes my boys would remember to turn in their poetry assignment before the teachers email me to say that it's days past due...
Ok, I'm losing my focus so I'll close by thanking my customers who have supported me, I thank God for placing me in London and allowing me to believe in myself again, and most of all I am thankful for a family who believes in me too. 
Let the Minimalist Mama Movement begin! Be sure to subscribe to my newsletter to find out what this minimalist's mama movement's all about!